London 2012 Olympic Torch Relay :
Friday 27 July 2012
On Friday, 27 July the Olympic Torch took to the River Thames to conclude it 8000 mile journey around the UK. At Hampton Court Palace it was taken aboard Gloriana The Queen's Row Barge by four-times Olympic rowing gold medallist Sir Matthew Pinsent who went forward and lit the Olympic Cauldron on Gloriana's bow before disembarking . He said, "It's a very special summer and for the Gloriana to be part of the Jubilee and then this, is great."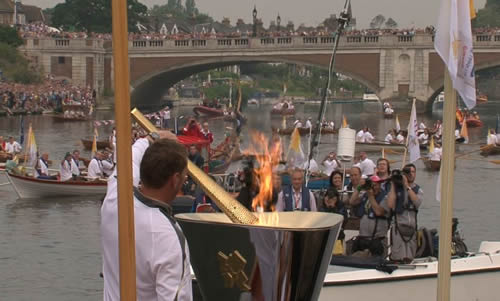 The £1m royal barge, which was central to the Thames Diamond Jubilee Pageant in June was rowed used 16 oars which were handled by a squad of 28 on-board rowers made up of former British Olympic rowing crews going back to the 1948 Games, including Olympic gold medal winners James Cracknell and Jonny Searle and from 1948 Mike Lapage and Paul Bircher. Also rowing were two future 'Olympians' from London Youth Rowing.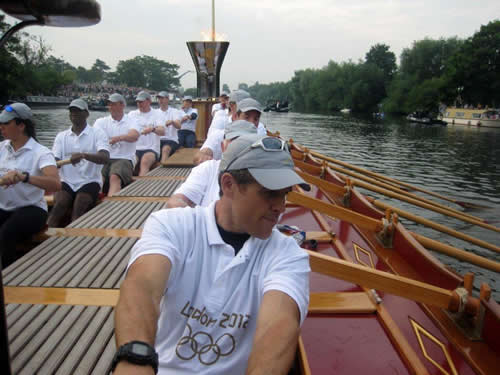 Queen's Row Barge Gloriana Olympians Squad For The Olympic Torch Relay Day 70
Name

Games Attended

Louis Attrill

2000 Sydney

Chris Baillieu

1976 Montreal, 1980 Moscow

Bill Barry

1964 Toyko

Guin Batten

1996 Atlanta, 2000 Sydney

Paul Bircher

1948 London

Catherine Bishop

1996 Atlanta, 2000 Sydney, 2004 Athens

Ed Coode

2000 Sydney, 2004 Athens

James Cracknell

1996 Atlanta, 2000 Sydney, 2004 Athens

Tim Crooks

1972 Munich, 1976 Montreal

Martin Cross

1980 Moscow, 1984 Los Angeles, 1988 Seoul

1992 Barcelona

Simon Dennis

2000 Sydney

Rowley Douglas

2000 Sydney

Adrian Ellison

1984 Los Angeles, 1992 Barcelona

Luka Grubar

2000 Sydney

Mike Hart

1972 Munich, 1976 Montreal

Garry Herbert

1992 Barcelona, 1996 Atlanta

Ben Hunt Davis

1992 Barcelona, 1996 Atlanta, 2000 Sydney

Mike Lapage

1948 London

Andrew Lindsay

2000 Sydney

Gillian Lindsay

1992 Barcelona, 2000 Sydney

Alison Mowbray

2000 Sydney, 2004 Athens

Fred Scarlet

2000 Sydney

Jonny Searle

1992 Barcelona, 1996 Atlanta

Elise Sherwell

2000 Sydney, 2004 Athens, 2008 Beijing

Richard Stanhope

1980 Moscow, 1984 Los Angeles, 1988 Beijing

1992 Barcelona

Steve Trapmore

2000 Sydney

Kieran West

2000 Sydney, 2004 Athens

Steve Williams

2004 Athens, 2008 Beijing

Sarah Winckless

2000 Sydney, 2004 Athens, 2008 Athens

Jordan Cole-Hossain

London Youth Rowing

Oladimeji Ogunyoye

London Youth Rowing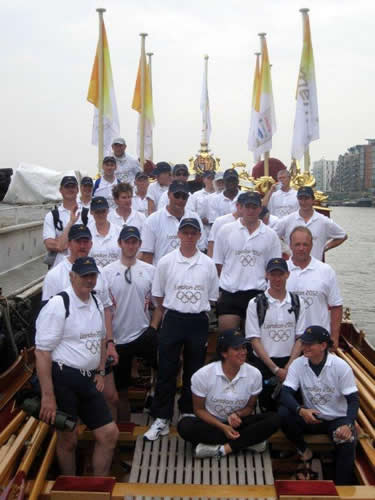 The Olympic Flotilla was divided into three sections. The first from Hampton Court Palace to Richmond Lock Foot Bridge (7.5 miles) saw Gloriana escorted by over 40 skiffs, Shallops and cutters. Below Twickenham Road Bridge the escort held water and gave "Three Cheers!" to the Olympic Flame.
The second section featured 3 VIII's (Octo's) and 10 IV's from London Youth Rowing which took over the escort from Kew Rail Bridge to Putney Bridge (5.2 miles). They were lined up on either side of the river in 'Head Race' style - line astern, bow up stream holding water - awaiting the arrival of Gloriana.
The third section, which took over from Chelsea Harbour and consisted of 15 Watermen's cutters from the City Livery Companies, escorted Gloriana and the Olympic flame for the remainder of the journey to the Olympic Rings Barge moored opposite City Hall close to Tower Bridge. The flotilla arrived a little ahead of time as Gloriana turned and moored alongside the Rings barge with her oars to vertical as she came alongside. The escort of Watermen's cutters held position on the other side of the Rings Barge.
At 08:12 BST James Cracknell and Thames Alive's Peter Warwick rang the on-board bell for three minutes as part of the national celebration for the London 2012 Festival, when bells rang out across the country to mark the opening of the Games.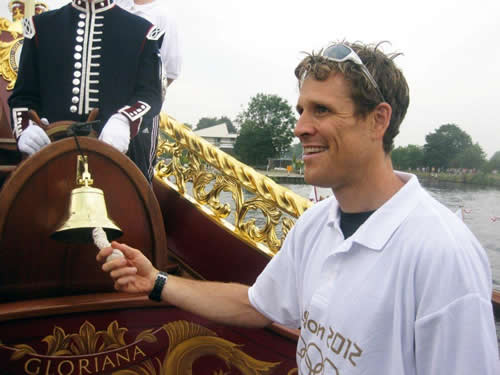 Soon afterwards the first of the seven young torchbearers, Akosua Scantlebury, 25, carried the torch, lit from the cauldron, past Richmond Riverside. Next was junior rower Anastasia Chitty, 18, who carried it through Chiswick, followed by Nathalie Murphy, 25, who makes fundraising films who took the flame at Putney, football coach Terry Bobie Agyekum, 20, whose turn came at Battersea Park, weightlifter Jimmy Hazard, 19, who took it past the Houses of Parliament and the London Eye and Yusuf Jimacale, 21, who works with a community football programme and carried his torch under Millennium Bridge.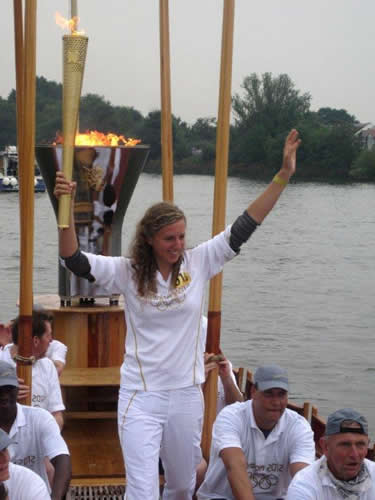 The final torchbearer of the morning's relay was 22-year-old basketball player Amber Charles, who played a key role in London's winning bid. She stepped onto the Olympic Rings Barge and paraded the torch to the thousands who had gathered on both banks of the river and Tower Bridge to see this unique spectacle as the fame completed the last leg of its hugely successful 70 day tour.
As Thames Alive director said afterwards, "The master plan worked, which is wonderful - the torchbearers, the crews and the crowds all played their part. It's a great way to bring the flame into central London, using the highway of London."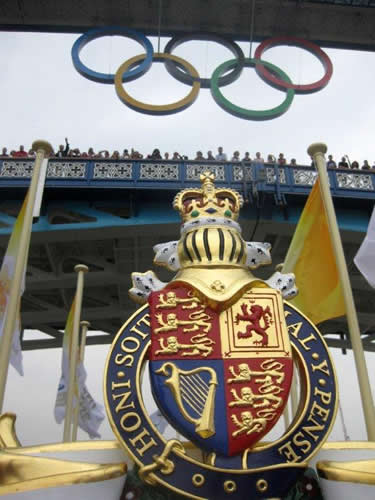 The Mayor of London Boris Johnson, David Beckham OBE and Chairman of London 2012 Lord Coe welcomed the final Olympic Flame torchbearer Amber Charles to the Mayor's Host City Reception at London House. Present were the Olympians who had rowed Gloriana for its five hour journey from Hampton Court Palace.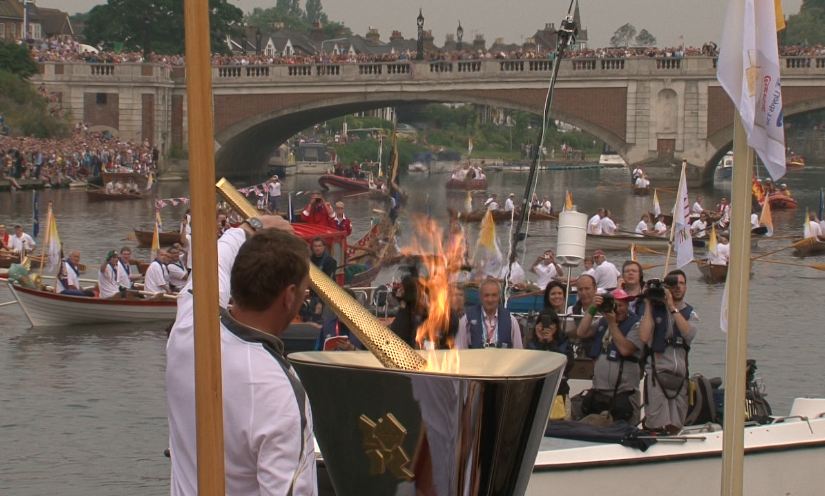 View photos of the Olympic Torch Relay
View News Stories about The Olympic Torch Relay:
BBC News Torch Relay Day 70 (BBC News)
BBC News - In Pictures: Olympic Torch Relay Day 70 (BBC News)